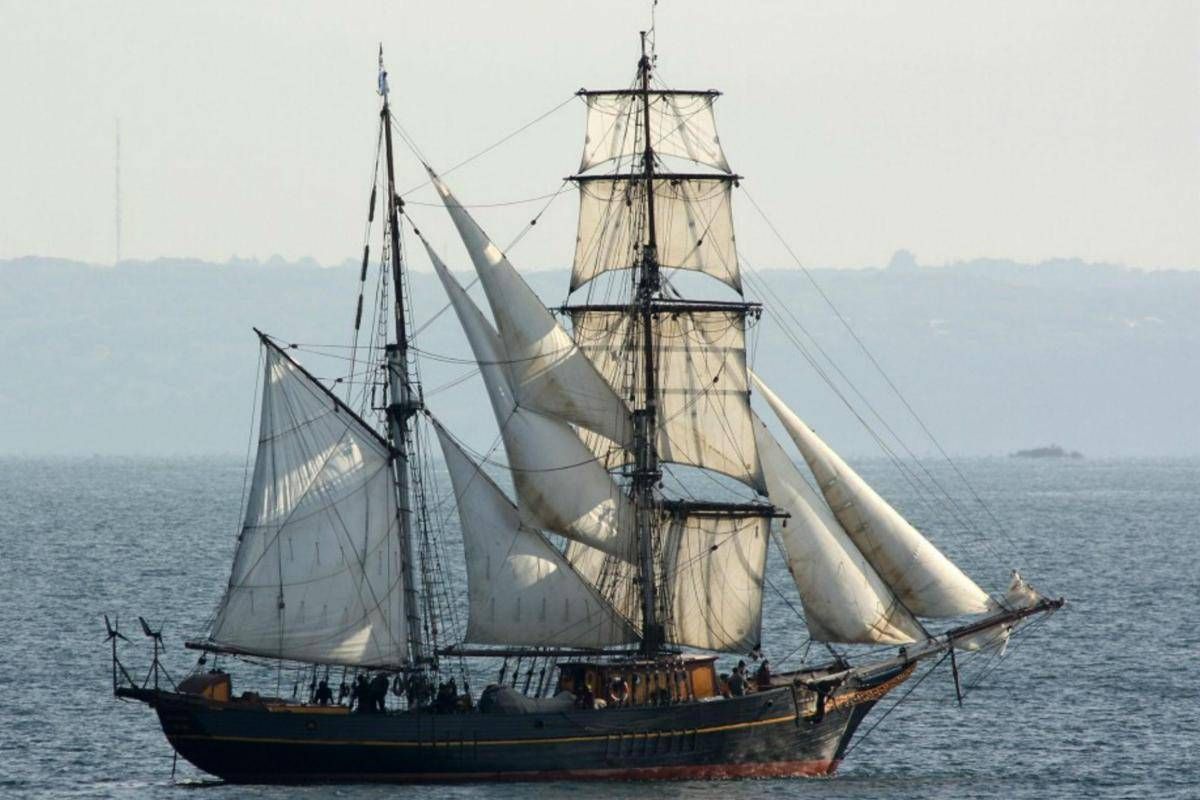 It may be the beginning of a small revolution in maritime trade: the rediscovery of merchant sailing. We are in France, more precisely in Brest in Brittany, a region that has given birth to generations of some of the strongest sailors on the Old Continent. In 2009, the Towt (Transoceanic wind transport) was founded on the initiative -you might say vision- of the couple formed by Guillome Le Grand, an indigenous man, and Diana Mesa, a Colombian from Bogotá, with a very specific idea in mind: to help cut emissions by using the first renewable source exploited by man, the wind: but not to make electricity but to transport goods, as has been done for centuries.
"The wind is there, the routes are there, the boats are still there: that's all we need," Le Grand repeats to those who periodically go to interview him, as "Le Monde" recently did, which has taken to heart the possible revival of one of France's oldest traditions, Channel cabotage. Given that 90 percent of goods travel, worldwide, by ship, the environmental impact of merchant shipping is calculated to be the fourth largest in the world in terms of Co2 emissions; the Towt, though literally a drop in the bucket, starts precisely from reclaiming tradition to try to overturn the cliché of progress being equivalent to the internal combustion engine, somewhat as is happening in Western cities with the resurgence of the bicycle as a means of travel (and also parcel delivery).
Although Towt's birth date is 2009, the first trips are made in 2011, aboard the "Biche," an old sailing vessel dating back to the early 1900s, the last still afloat of hundreds built in Brittany before the advent of engines. Usually the small ship transports English beer from Lorient, where it is based, to Bordeaux. There the new cargo, this time of wine -obviously- but also canned fish and salt, to go up north.
COMPETITIVE PRICES
Now the fleet consists of 8 ships in all , and activities go as far as the Caribbean and the Azores, to load rum chocolate and tea, both on behalf of traders and on their own. But what about the prices? All in all, competitive: if normal cargo transport affects between 0.3 and 1.6 percent of the final cost of the product, Le Grand assures that for a 6-euro bottle of wine the aggravation is 20 cents, and that's without counting the collective benefit of lost emissions.
IN ITALY AS USUAL…
What about in Italy? Nothing, becalmed. Confitarma, the shipowners' confederation, itself has no record of such initiatives. Maybe something spontaneous? We ask one of the most keen observers of the Mare Nostrum, Simone Perotti, a navigator and writer with a past as a communicator, now involved in the Mediterranea Project. "There is no such thing, I really think if there was I would have come to know about it," he tells Adnkronos.
Perhaps the difficulty of the Mediterranean, with frequent wind shifts and related uncertainties of course, suddenly changing sea, crosses… "But no," Perotti replies, "there in the Channel is a nice hard sea, that's certainly not our problem. We did not develop our thousand-year-old sailing tradition, we let it precipitate with the advent of the motor. The last person to design something like this was Nino Bixio, Garibaldi's right-hand man, at the dawn of steam": imagine that. Argument already heard for land transport; even at sea, Perotti says, the inattention to "the dominance of motorization seems to be replicated. Ships then, and this is not known by many, do not run on diesel fuel but on fuel oil, and they leave their engines running all their lives: let alone spit into the air…"
CABOTAGE? A VIABLE SOLUTION
Yet "there would be a need to get a grip, and sailing cabotage may be one of the solutions. The Mediterranean has immense logistical difficulties, as long as you stay around the big centers no problem, but reaching every point on its coasts can still be a challenge; and it is normally quite difficult to connect in so many places in such a densely populated sea. It would be a case of making a kind of 'Blabla sail,' putting the thousands of 'disposable' boats for people to share or available for transporting not large packages, a bit like couriers in vans. Those who go by sea can carry many things, people, materials. It would be nice if it took a long time to get something but it came sailing and was free. A slow sailing revolution that would cover a slice of the logistics and transportation market. Who knows?"
Could Perotti's project, "Mediterranea," resemble something like this?: "No. Five years around the Mediterranean, now we are in Crete, soon we will return to the Greek islands, then to Syria if the Farnesina gives us the green light. After that Cyprus, Lebanon and Israel. But our intention is to connect intellectuals, writers, cultural workers, in search of a new model of Mediterranean relations; and also carry out oceanographic research."
Source www.adnkronos.com